· Adjustable Gym Rings:
Numbered straps and buckle design, super easy balance the rings for perfect bodyweight training.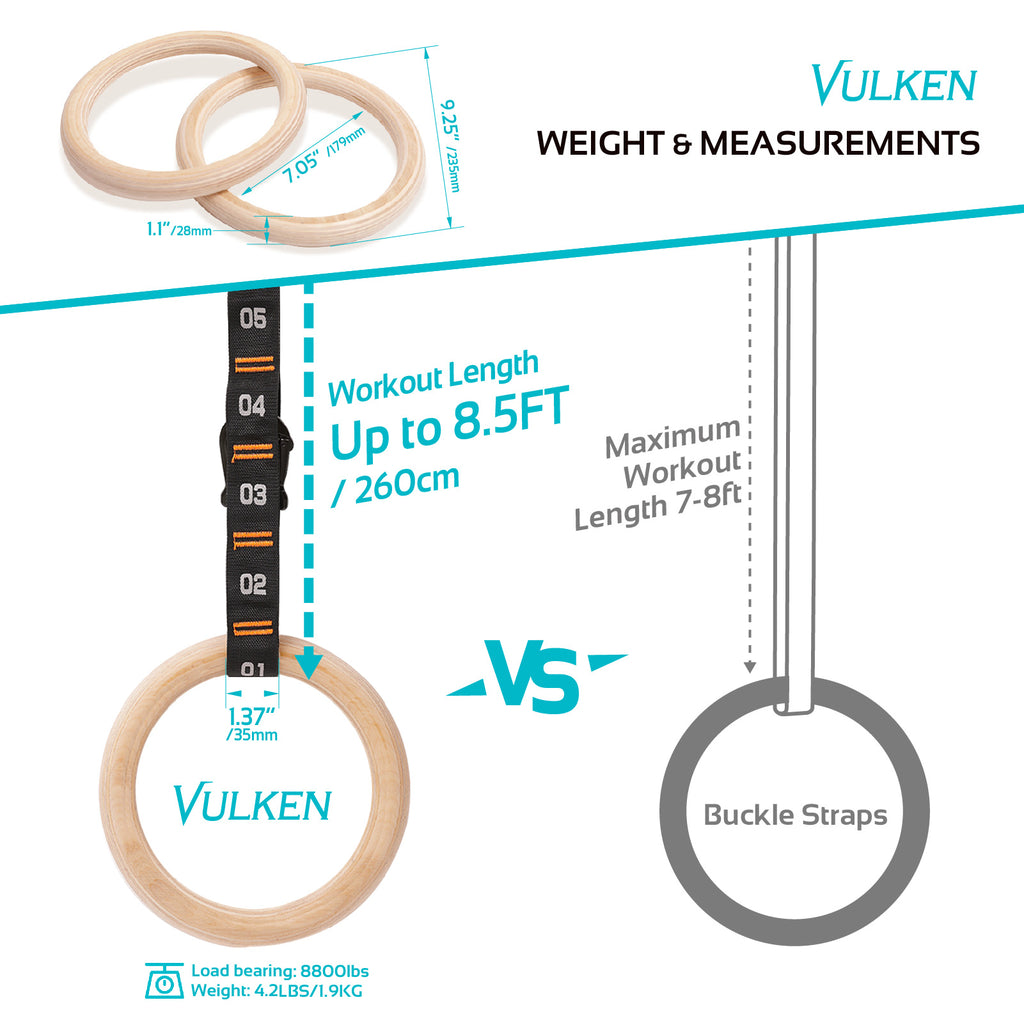 · Easy & Safe Set Up Gymnastic Rings:
Double layers straps+steel buckles+brochure provided, extra durable and easier for you to set up & use.
· Diversified Wooden Calisthenic Rings:
Gym rings+foot straps+suspension handles in 1 Vulken workout rings set to help you perform multiple workouts.
Gym rings workout, suspension workouts, upper-body strengthening, core building and more!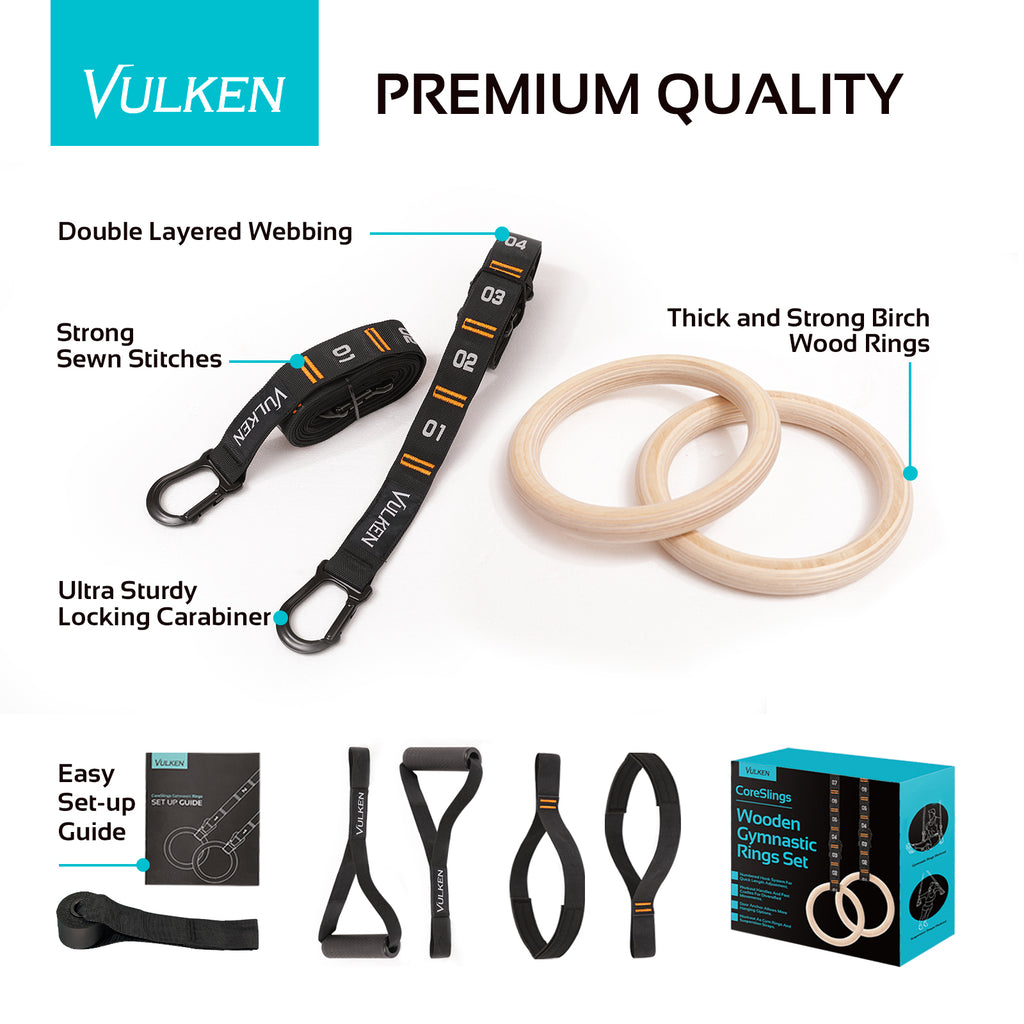 · Home Gymnastic Rings:
Our suspension rings set can not only be outdoor gym rings but perfect home fitness tools. No wall mount needed.
Just use it with our offered door anchor, find a solid door and your training can start.
· Product Details:
Maximum 8.53ft (280cm) workout length
Bearing capacity up to 1600lbs/725kg
Rings Thickness 1.1" (28MM)
Package Contents:
Wooden Rings x 2
Numbered Polyester Straps x 2
Carabiners x 4
Workout handles x2
Foot Straps x 2
Door Anchor x1
Setup Guide Book x 1
What is the VULKEN Quick Length Adjusting & Leveling System?
Our CoreSlings Olympics Gymnastics Rings use the double layer adjustable straps with numbered digitals,
along with four strong carabiners for a quick length adjustment during your workout.
Numbered loops on both straps not only make ring leveling fast and convenient,
but also makes installing the exercise rings easy and secure compared to the regular CAM buckle ones.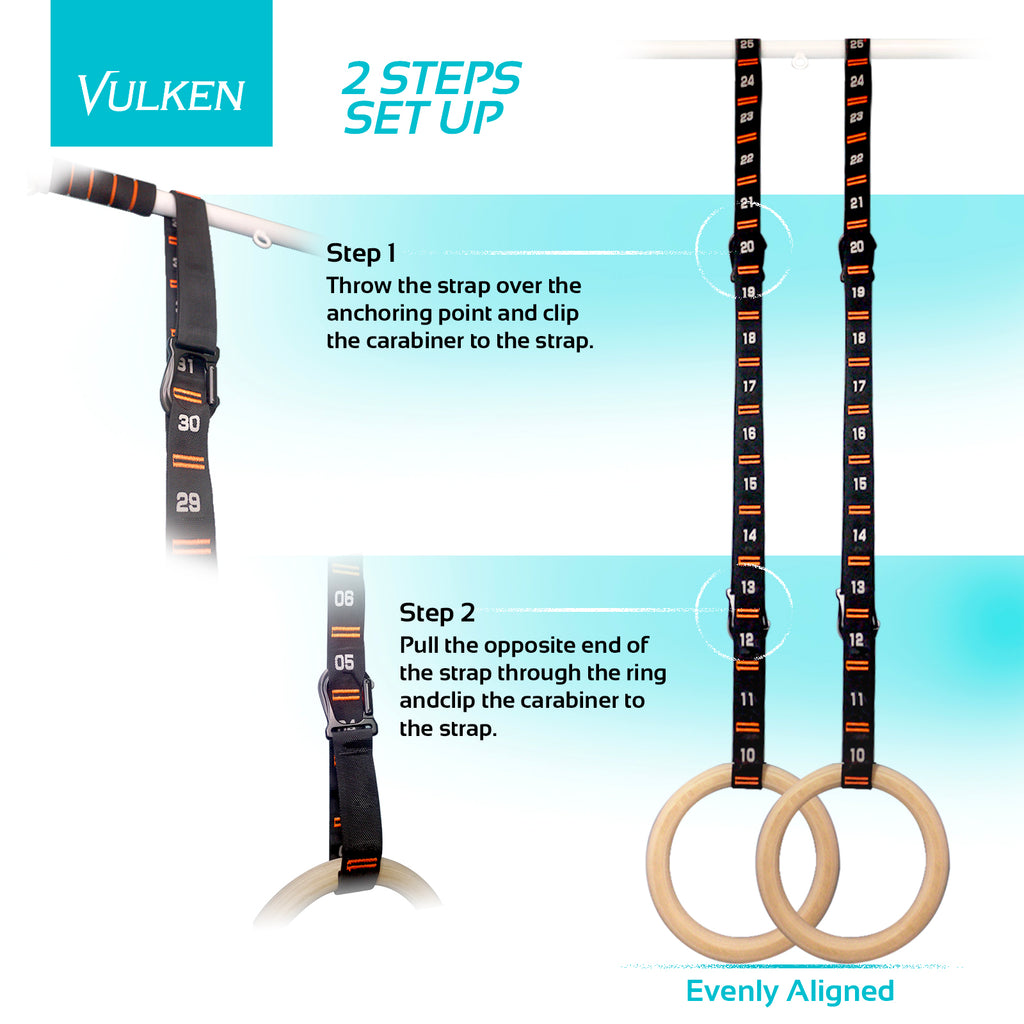 Why are other Olympics rings 17ft in straps length
while VULKEN CoreSlings Gymnastics Rings are 8.5ft?
Our gymnastics rings are actually the SAME workout length as the others.
Our useful workout length of straps is up to 8.5ft, while assembling the 17ft single layer straps using CAM buckle,
you need to feed the strap over the anchor point and then thread the strap through the buckle to make a circle,
hence the maximum assembled length of the 17ft strap are actually about 8.5ft.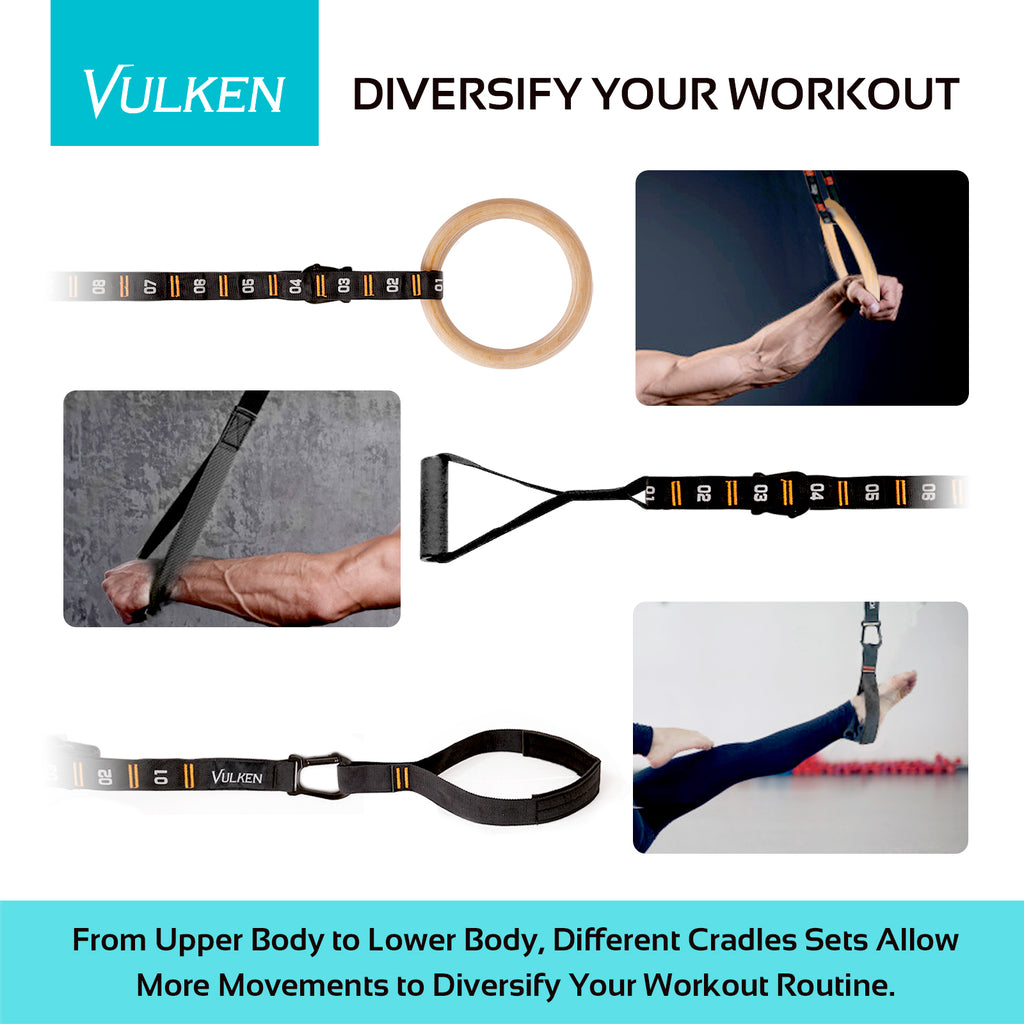 How can I use it as suspension exercise straps?
We provide our users two gripping solutions: wooden rings and workout handles,
plus the foot straps allowing the lower body to engage in abdominal training and core workout,
to diversify the exercise movements and to add a whole new dimension to your routine!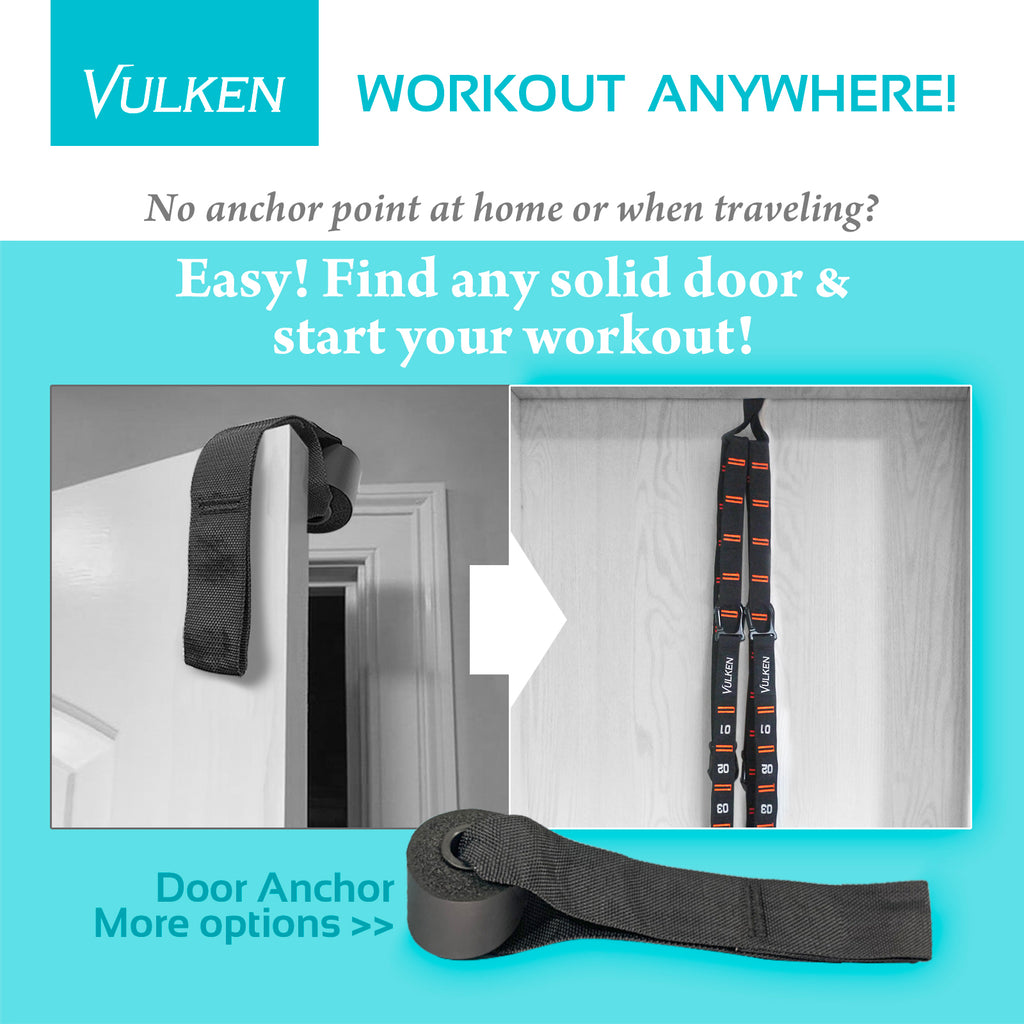 What is the bearing capacity?
Our high-strength polyester webbing, double layer sewn numbered straps with sturdy stitching,
along with the mountaineering level safe locked carabiners, provide a bearing capacity up to 1600lbs/725kg.
Three ways of length adjustment using the carabiners and numbered loops meet all movements that the training rings require.
(Ways of length adjustment are shown in guidebook)
What is the advantage of the wooden rings?
Our 1.11'' standard polished birch wooden gymnastic rings are completely non-slip and smooth,
offering a strong and comfortable grip in your rings training.
Why does VULKEN Gymnastics Rings Set stand out
in the ideal fitness travel companion from other gym rings?
The door anchor in the package gives you more attaching options for your rings training.
When you are not able to find a solid bar or tree for the exercise rings during your travel,
just hang them to a solid door with the door anchor and exercise indoors! 
Other reasons include that VULKEN Gymnastics Rings Set is affordable, lightweight (4.4 lbs), easier to set up than the other brands,
more exercises are introduced with the handle and foot straps provided etc.
What are the benefits of gymnastics rings workout?
The wooden rings are perfect for ring pull-ups, push-ups, ring dips, gymnastic ring rows,
muscle-ups, chest flies, ring front lever, cross holds, reverse row sit-back, hanging leg raises etc.
Here are a few of the many benefits:
· Improve stabilization and mobility
· Enhance proprioception
· Upper body strength muscle gains
· Excellent Abdominal development
· Strength and performance transference
GYMNASTIC RINGS WORKOUT
SUSPENSION STRAPS WORKOUT